The Best Security cameras that don't need Wi-Fi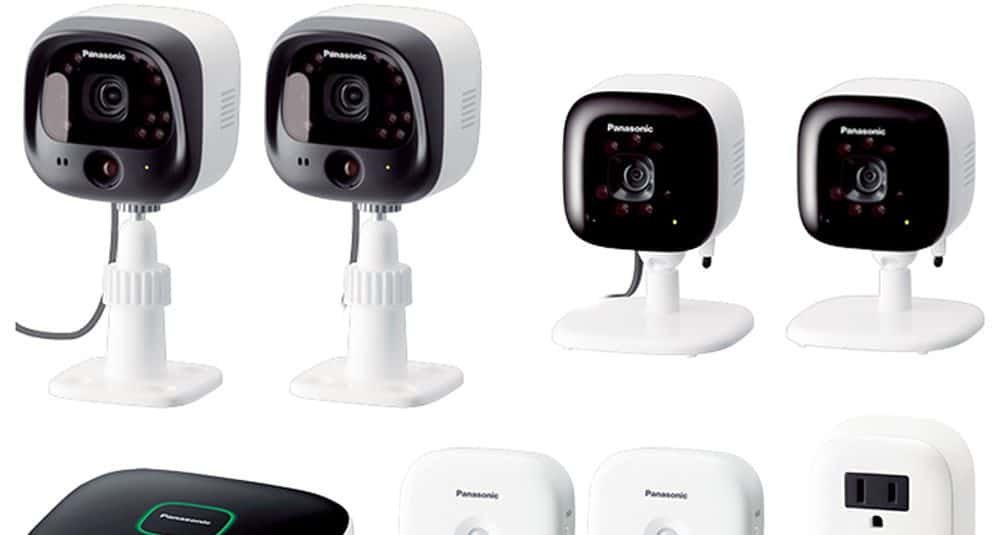 Regardless of whether you have your own home or you are renting, having a security camera to keep an eye on things is always a good idea.
We selected 8 cameras with the best features, and at a good price. Let's take a quick look at the first 4 best cameras available on the market. In the second part, we will look at the other 4 options.
Name
Arlo Go - Mobile HD Security Camera with Data Plan | LTE Connectivity,...
Amcrest ProHD Outdoor 1080P POE Bullet IP Security Camera - IP67...
ZOSI 1080P HD 1920TVL Hybrid 4-in-1 TVI/CVI/AHD/960H CVBS CCTV...
3G/4G LTE Cellular Security Camera, True Outdoor Wire Free,...
Image
Name
Arlo Go - Mobile HD Security Camera with Data Plan | LTE Connectivity,...
Image
Name
Amcrest ProHD Outdoor 1080P POE Bullet IP Security Camera - IP67...
Image
Name
ZOSI 1080P HD 1920TVL Hybrid 4-in-1 TVI/CVI/AHD/960H CVBS CCTV...
Image
Name
3G/4G LTE Cellular Security Camera, True Outdoor Wire Free,...
Image
But now, that is no longer feasible, and many companies are designing security cameras that you can manage and control by yourself.
The most common security cameras are usually internet-enabled, which means that there is usually a cable that runs from the camera to your router.
These have been known to be extremely reliable, and they relay real-time images. You can also control them quite easily using a Wi-Fi system.
However, if your internet happens to fail, or it is disconnected, you may lose all of the saved data, and hence most people have been wondering whether security cameras can work without internet, or if a Wi-Fi camera must be connected to the Wi-Fi to function correctly.
If you are also conscious about your privacy and do not wish to be hacked through your security system, you may be looking at these types of cameras that do not need to have a Wi-Fi system.
In this review, we look at some of the best in the market and how they work.
How do they work?
First of all, the level of security you receive from a Wi-Fi system and a camera that doesn't use Wi-Fi is the same. Security cameras are just like TV cameras and they run over coaxial cables using a VCR like machine. They are IP cameras.
They usually transmit the video through a Radio Frequency transmitter, which is then sent on to a receiver that is connected to the built-in storage device.
This is usually a cloud storage, and by using a monitor receiver, you can access all of the images and video clips that are being recorded by the security camera.
They do not require to have a Wi-Fi connection in order to record and monitor your home. They either use the cellular technology or the POE technology and Ethernet cables to record the footage which is then transmitted to a monitor.
Installation process
There are many different ways you can use to install these types of cameras. You can use either a digital or an analog IP system.
It is then powered using a POE (Power over Ethernet) injector which is simply a system that sends power from the IP cameras over the network cable. The monitor will show you recorded videos from the camera.
Buying guide
There are plenty of non-Wi-Fi connected cameras and choosing the right one can be a daunting task.
The following points will help you choose the best camera for your surveillance issues.
Night Vision
A good security camera should have night vision features, which allows them to keep recording even at night, where the risk factors are much higher.
They usually have this measured in feet, with a distinction of either some ambient light or total darkness.
Most cameras will have a 15 feet spec for the night and some, such as the famous Arlo Pro can go up to 25 feet.
The best are bullet and dome types of cameras that can reach up to 200 feet with their night vision, and when you look closely at their design, you can tell that they have big infrared LED banks.
Infrared isn't great for day recording, and as such, they tend to have filters can block the infrared light during the day so you can have an accurate color recording. This feature is known as the "true day/night."
Choose a security camera that can record clearly both during the night and day. The longer the feet, the better for you.
The field of view
The field of view for a security camera measures how much of the area it can record. Many of them offer wide fields of view that can go up to 180 degrees.
This is perfect because it can incorporate the entire building into one view.
Cameras with narrow views are excellent for recording tight spots such as corridors, where you do not necessarily need to see the bigger picture.
The field of view depends largely on the focal length of the camera's lens. A common focal length is usually 2.8mm, and this is equivalent to a 90-degree horizontal field of view.
Others actually let you zoom in for a narrower field of view.
The bigger the field of view, the better the camera.
Range of motion
Have you ever seen security cameras that keep moving from side to side? These give you the images from different angles, and you can even manage to follow a figure from one side to the other.
However, most security cameras are usually stationary, which means that they only show you the area that is right in front of where you have placed the camera.
In this case, when the subject goes out of the frame, then you are unable to follow their movements clearly, which can be a disaster when trying to find an intruder.
Finding a camera that movies from one side to another is a much better option for you when surveilling your home.
Motion Detection
Most cameras will offer you some sort of motion detection, but it's wise to find one that allows you to adjust the motion zones as this can drive you completely crazy.
A highly sensitive camera can detect a breeze or leaves that pass by the camera, and this means getting constant notifications whenever this happens.
You should find a camera that can easily be fine-tuned to only get triggered by people.
This makes it easy for you to have peace of mind, and not get anxious every time there is a breeze or a leaf falls on your front yard.
Storage capacity
Most cameras store data that they have recorded, and as such, you need to have a reliable storage capacity for all of the footage.
Your choice of storage also affects how the cameras are connected to the network.
Cloud storage requires a Wi-Fi connection and it will connect to the cameras through the internet.
This storage will also require you to keep paying for it over and over again, and as such, if you haven't renewed the storage, you may not have access to the footage.
Memory cards can be used with security cameras to record the footage. This is affordable and perfect for a security camera that does not need a Wi-Fi system.
You may, however, need to keep an eye out for when the card is full and swap it so you keep recording the footage over and over.
Hard drivers – These can be in-build into your computer or they can be external drives that are connected to the security system.
Privacy issues
Statistics show that there are more security systems in the world today than ever before.
People have become much more security conscious and there are plenty of ways to keep track of your home other than using the plain old CCTV cameras.
In fact, the current craze is the use of Drones.
It is, however, essential to consider the laws of privacy, especially when dealing with outdoor cameras.
This is pretty straightforward; the idea behind having a security camera is to allow you to catch a thief or an intruder, and not to spy on your neighbors.
You must, therefore, pay close attention to the rules and stick by what has been outlined by the law so you do not get caught on the wrong side, where the penalties for an invasion of privacy are pretty severe.
In simple terms – the law prohibits anyone from pointing their cameras onto their neighbor's backyard and if your neighbor ever feels violated or uneasy, intruded on or pestered, then you may be sued and forced to take down your cameras.
There have been numerous conflicts reported between neighbors and tenants as a result of the disruption of peace.
In order to avoid these types of conflicts, talk to your neighbors when installing outdoor cameras and understand the law clearly.
If they are fine with the surveillance, then you can go ahead and install the cameras whichever way you wish, even if they end up covering both of your properties.
Here are the 5 best security cameras that do not need a Wi-Fi system:
This security camera runs over a 4G network and has an internal SIM card. It is ideal for use in the outdoors such as a motorhome or a caravan, and you can even install it on a boat.
It is a powerful camera that is also easy to use and configure.
The camera has a 720p resolution which is extremely good for both day and night recording, although the video is a little soft at night.
This camera does not require the use of a Wi-Fi system for it to function as required. Its price is a little higher compared to other non-Wi-Fi connected cameras, but it is more than worth the cost.
For installation, you shall need to simply insert the SIM card and then place the security camera where you wish for it to record and you are good to go.
The mount can be screwed easily on a wall using the tools provided in the box.
Its detection performance uses a PIR sensor that picks up movements.
It is battery-powered and has optional cloud activity zones that are used to reduce the number of notifications upon motion detection.
You will need to download the Arlo app in order to configure the camera and this will also help you control the cameras.
It comes with seven days of free cloud storage which keeps all of your recorded data and you can access this information whenever you like.
It does work with Alexa when you want to control the voice, and its battery is 3660mAh and it is rechargeable.
Its night vision can illuminate up to 25 feet and this lets you see very clearly in the dark.
It is also weather-resistant and can work perfectly indoors as well as outdoors.
Pros
It can work both indoors as well as outdoors.
It has excellent night vision illumination.
It comes with a built-in SIM card storage.
It is compatible with Alexa.
Cons
It is a little expensive.
This is a reasonably affordable camera that offers you a wide view of the entire room rather than being fixed on a specific portion.
It also comes with a slight tilt functionality that is designed to deliver a much more detailed and high-definition image with excellent color quality even at night.
Its cloud storage will require constant updates and renewals, but overall, this is a camera that offers you plenty of great features, which means that it is more than worth it.
It has a superior video resolution of HD 1080p. This records and playbacks the videos using the Amcrest or the FTP, or ONVIF NVR, or the Blue Iris. The Amcrest Cloud Video recording feature is also available and optional if you wish to use it.
The camera uses a POE – Power over Ethernet network that will need you to have a spate POE injector and switch for operation.
These are however purchased separately, and it is highly recommended that you purchase the Amcrest POE switch and Injector.
It has an incredible field of view that can go up to a 128-degree angle with an intelligent digital zoom and an IR LED night vision of up to 98 feet. This is very high, and perfect for huge buildings.
It comes with a metal housing that is heavy duty and IP67 weatherproof.
It comes with lifetime support from Amcrest Company.
The camera's measurements are 4.5 X 3.9 X 4.0 in inches and this is significantly smaller but works very well. It is available in both white and black colors and has a ceiling mount as well.
The Ethernet Cable, 10-foot Power cord and AC adapter are provided in the packaging.
The rear panel has an LED indicator, external alarm ports, an audio in/out port, a reset button, a micoSD card slot and a power jack.
You can save the recordings onto the Micro SD card or you could use the more expensive Amcrest's cloud storage.
Despite its somewhat complicated configuration process, it offers plenty of features such as white balance, saturation, gamma, and excellent exposure levels.
Pros
It comes with high resolution for videos.
It is weatherproof with excellent night vision.
It has a long night distance of up to 128 feet.
It has an incredible field of view
Cons
It is a little complicated
You will need to use your mobile data to download the app.
This is a professionally reliable security camera whose company has been in operation for over 20 years now.
They have developed a wide variety of cameras that have withstood the test of time and they only use the latest technology in their design.
Of all the products designed by ZOSI Company, this particular camera is in the number one position as one of the best in the industry.
It is a 4-in-1 bullet camera that can be used compatibly with AHD, HD-TVI, CVBS/960H, CVI and all analog DVRs.
It has an inbuilt CMOS image sensor and a 2 MP resolution with advanced closed-circuit design.
The camera also has a built-in OSD menu that can change the video outputs and adjusts to video settings.
It is a weather-resistant camera made of high-quality metallic materials that do not rust.
This means you do not have to worry about the terrible weather conditions such as heavy rains and cold winters.
You can install the cameras both indoors as well as outdoors.
The night vision on this camera is 120ft or 40m long. This can be viewed on its 3.6mm lens that provides clear images even at night.
Pros
It has a 4-in-1 camera
It comes with a built-in OSD menu that makes it easy to use.
You can adjust the resolution as you wish.
The night vision measures 120 feet, which provides excellent and clear images, especially at night.
Cons
It has a wider viewing angle.
It uses lots of electricity and it is expensive to maintain as well.
This security camera from Reolink Company uses 4X optical zooming feature and comes with a 5-megapixel camera lens for excellent resolution.
It also works with an Ethernet cable and the POE technology and doesn't require a Wi-Fi connection to function.
The camera supports 3G, and 4G LTE networks and it is IP65 certified as weatherproof with a rechargeable battery and solar power option.
It is 100% wire-free and mobile, which means that you can use it for both the indoors as well as the outdoors without any internet access.
This makes it ideal for campers, hotels, RVs, hunting, trailers, and warehouse security.
The rechargeable battery that is also solar-powered can be charged universally using the 5V 2A phone adapter and a Reolink solar panel that ensures continuous power when in use.
The night vision is excellent at 1080p with full HD capabilities.
Its field of vision is 110 degrees with 33 feet distance which covers plenty of surface area, with a reduction of the blind spots. Its advanced 2-megapixel image sensor doesn't miss a thing, whether it is day or night.
It also comes with a smart motion detector and an instant PIR motion alert system.
The PIR scheduling and sensitivity adjustment send push notifications, customized voice alerts, and sound alarms when they are highly sensitized by motion. It is very accurate and detects very few false alarms.
It comes with a two-way audio system with a remote live view and playback system that has an in-built speaker and mic to listen, speak and interact with loved ones. It also helps to ward off any burglars when you are away.
The built-in micro SD slot helps to record motion videos.
Pros
It is weatherproof
Offer non-stop surveillance.
It can be used both indoors as well as outdoors.
It comes with high-quality lenses.
Cons
It is slightly more expensive compared to the rest.
It is extremely sensitive to motion.
Conclusion
Security cameras that do not need a Wi-Fi connection give you options to use even in internet restricted areas.
Having the peace of mind that is accompanied by knowing that your home is protected from intruders is more than worth it.
These cameras are perfect because they are easy to install and they are affordable.
Ensure to look out for the points listed above in the buying guide, and also keep the memory storage always empty so you can have all of the surveillance captured for when you need it.