Best Spy Cameras on the market
Do you need some peace of mind while you're away from home? Did you hire a new babysitter and you need to keep an eye on her while you're at work? There are many reasons people need the best hidden camera. Whether it's to monitor your property or your hotel room, a spy cam will allow you to closely monitor any type of situation and environment while you're away.
But considering there are hundreds of models on the market to choose from, finding the right camera for your specific setup can be difficult. Do you need a hardwired model or wireless? What type of viewing angle will work best for your living room? Do you need a cam with infrared technology?
If you don't know much about hidden cameras, then these questions can be overwhelming.
Fortunately for you, we've reviewed dozens of the top selling models on the market and narrowed our top choices down to five hidden cameras that are the best of the best. These cameras are small, easy to hide, and even easier to use.
Along with the top five models we felt we had to include one popular model that we came across that is anything but a good buy. Not only does it fail to work after a few weeks of use, but there have even been reports that it can catch fire. For consumer safety we decided to include a review of this product on our site to ensure more people don't make the mistake of buying that particular spy cam.
Aside from the reviews, we've created a buying guide with the newbie in mind. The buying guide will include all of the features, specs, and accessories you can choose from, in addition to connectivity options, lens quality, and more.
We hope our in-depth reviews and guide will help you to find the right hidden camera for your home, business or property and your budget.
Comparison Chart
Product
Product type
Price
Overall rating
SCS Enterprises Wireless Clock Spy Camera



Check Price

Clock Cam
$$$
****
WiFi Baby 4: HD Wireless Nanny Cam and Baby Monitor



Check Price

Nanny Cam
$$
*****
Sleuth Gear Xtreme Life RockCam Outdoor Hidden Camera



Check Price

Surveillance Cam
$$$$$
****
Phreilend Hidden Camera



Check Price

Surveillance Cam
$
****
Phylink PLC-128PW 720P HD Covert IP Wireless Mini Pinhole Spy Camera



Check Price



Spy Camera
$$
*****
FREDI Mini Spy Camera



Check Price

Spy Camera
$
*
Quick Summary
[box]
SCS Enterprises Wireless Clock Spy Camera:
This is a great spy cam that has the traditional look of the type of clock you'll find in mom's kitchen. Excellent video clarity thanks to the high-quality lens and larger than average sensor, this is a great buy if you're looking for a fixed model that you can mount permanently in a room at home or your place of business.
WiFi Baby 4: HD Wireless Nanny Cam and Baby Monitor:
This is a great way to hide a nanny cam in plain sight. Highly effective, offering crystal clear viewing, and easy to use, this model doubles as a baby monitor and nanny cam, allowing you to keep an eye on your children when you're at work or out on a parent's night out. Highly recommended by moms as the go-to nanny cam, this model will definitely provide you with much-needed peace of mind.
Sleuth Gear Xtreme Life Rock Cam Hidden Camera:
This hidden rock camera works great on smaller, well-lit properties but it's definitely not a great choice for large poorly lit yards. User-friendly and easy on the wallet, this is a great buy that will allow you to closely monitor your property when you're away.
Phreilend Hidden Camera:
Working undercover, this spy cam looks and functions as a USB charger. It's very budget-friendly, easy to use, and can come in handy when you travel, or when you need an undercover cam to use when the babysitter comes over.
Phylink PLC-128PW 720P HD Covert IP Wireless Mini Pinhole Spy Camera:
A tiny spy camera that looks like it's straight from the movies, you'll have no problem setting this beast up or stashing it in a place no one will find it. Budget-friendly, and offering excellent video clarity in the right lighting conditions, we highly recommend this camera to anyone who's looking for a techy spy cam that's user-friendly and effective.
FREDI Mini Spy Camera:
Priced low, difficult to use, and a potential fire hazard if you leave it plugged in for more than a couple of hours, this is one model you need to steer clear of.
[/box]
1. Phylink PLC-128PW 720P HD Covert IP Wireless Mini Pinhole Spy Camera Review-Best Spy Camera
This spy cam by Phylink offers top of the line quality in a tiny package. This wireless spy cam is ultra-discreet, motion activated, and is so small you can stash it anywhere. It comes with a twenty foot cable for maximum flexibility.
It's also compatible with Macs, PCs, iOS devices, and Android devices.
The cam is highly adjustable, featuring multi-zone motion detection. You can also receive alerts via push notifications or email.
The SD card can store up to one hundred and twenty-eight gigabytes.
This is a high-performance spy cam that's easy to hide and even easier to use.
Both the main unit and sensor unit are connected by a twenty-foot cable, which will give you more mounting options. This set includes a variety of mounting hardware so installation is fast and easy.
The camera can be used up to forty feet away from a wireless router.
Pros
The cam also offers top of the line audio and video quality.
The app allows you to make adjustments to the camera's setup quickly and easily.
Combined with the long length of the included cable, you can hide this camera pretty much anywhere.
Reasonably priced, you'll be hard-pressed to find another camera in this price range that offers the same type of recording clarity and high functionality.
Cons
When it comes to night vision, this camera will struggle, so we recommend only using it in rooms with decent lighting conditions. In poor lighting conditions, you'll notice that the footage looks very grainy.
Because the camera doesn't feature a wide view angle you'll need to take special care when you're setting it up. Be sure to test it out, and of course, placing it in a higher position will allow you to cover more area.
Conclusion

This is a spy camera straight out of the movies and you don't have to be a tech nerd to know how to use it correctly. Of course, the detailed easy to follow user's manual helps a lot, as does the customer service team who is quick to respond and very helpful.

With the right setup and decent lighting, this cam offers excellent clarity. Email alerts and push notifications will keep you posted each time the motion detector sensor picks up any type of activity. The daytime video quality is the best of the best and can beat out even higher priced models.
2. Phreilend Hidden Camera Review-Best Cheap Hidden Cam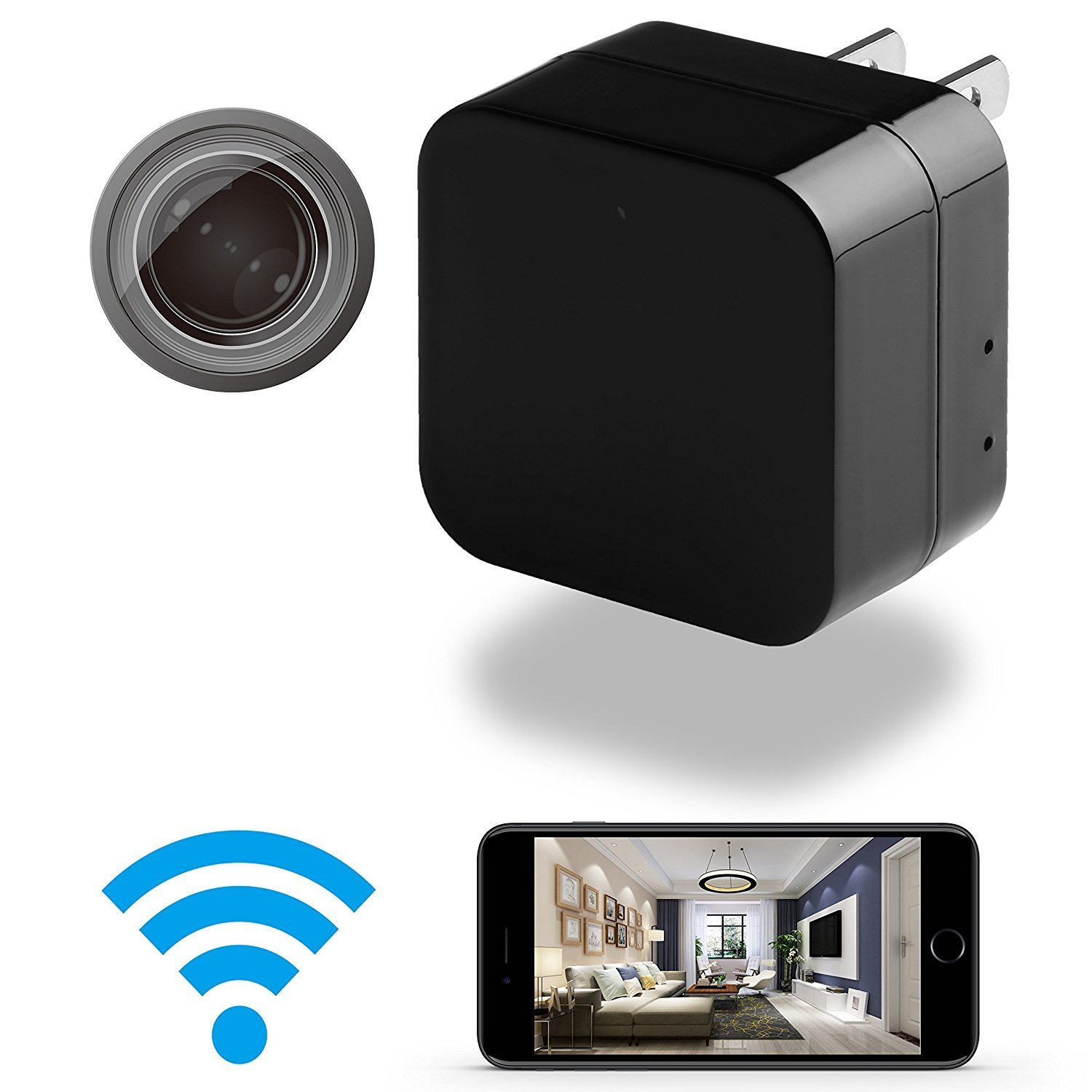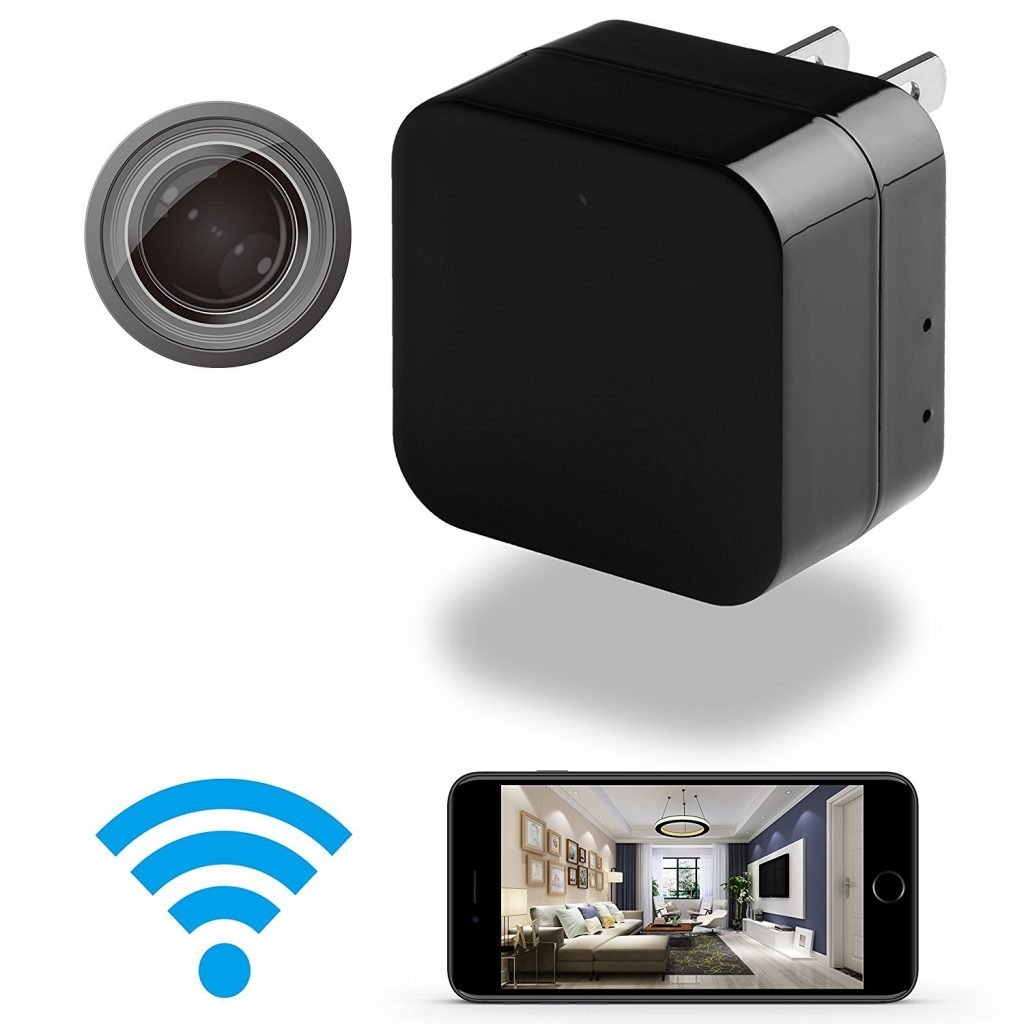 This tiny spy cam allows you to keep an eye on your home like a pro. It's unbelievably small and looks like a standard USB wall charger, Even better, it actually works as a wall charger so if someone tries to use it to charge their phone they'll have absolutely no idea that this device doubles as a spy cam. This is one cool video camera.
It features motion detection technology and you can use the app to turn this feature on or off, easily. The cam will automatically begin recording once it senses movement. This is a great power-saving feature.
This is a Wi-Fi cam and one of the most reliable ones that you'll find on the market.
The camera also comes with a two-year product warranty, which is impressive considering the low price.
To use and adjust the settings, simply download the app from the Google Play or the Apple app store. Setup is super easy, just choose the device from your Wi-Fi list and click connect. The stream is also password protected for top of the line security.
We love trying out new spy gadgets and for the price, we were intrigued with the rave reviews this tiny spy cam has been receiving.
Pros
Reasonably priced and it comes with a two-year product warranty to boot.
It features excellent Wi-Fi connectivity.
Simple and fast setup, even if you're not tech savvy this camera is incredibly easy to use.
If you're looking for the ultimate stealthy nanny or security cam, this is it.
Tiny, compact, you can take this spy cam anywhere.
This device is perfect for travel. Have you ever wondered what happens once you leave your hotel room? This camera will allow you to monitor your room and keep an eye on your possessions.
It's also perfect for business meetings or any other occasion that calls for stealthy surveillance.
Cons
We found that the cam begins to run hot after a few hours of use. Some buyers even reported smelling burning plastic when their device began to run hot. Because of this issue, we don't recommend using this device for overnight surveillance. The cam is more designed for use when you have a sitter or to monitor the home for short periods of time.
Conclusion

This is a top-selling spy cam that's offered at a low price, which makes it a good buy for anyone who's in need of home surveillance for a few hours. Because the camera has a rep for overheating we don't recommend using it for overnight surveillance or while you're at work. Of course, there have been no reports of serious issues even when the camera is left on for hours, but it's better to be safe than sorry. Considering it comes with a two-year product warranty, we recommend contacting customer service if you run into overheating issues.

Tiny, effective, and reliable, we would recommend this spy cam to anyone on a tight budget.
3. Sleuth Gear Xtreme Life Rock Cam Review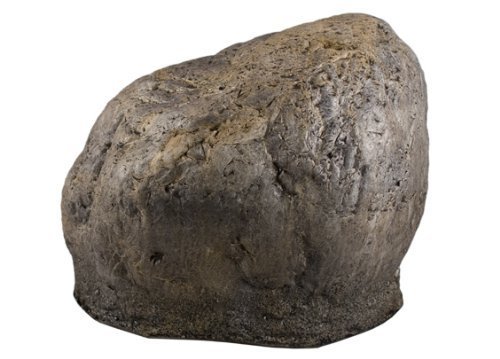 We love products by KJB. This company always produces innovative security system products, so we were pretty excited to review the Xtreme Life Rock Cam to see if it could meet the usual Sleuth Gear standards. This company is known for producing affordably priced security cams and hidden cams for home use. While their models don't normally come packed with hi-tech features that you'll find on more expensive models, we've found that they're usually solid performers that offer longer than average charge time and they're often very user-friendly.
This is basically a large fake rock that you can place on your property to keep a close eye on your home or business. It offers both continuous or motion activated recording options and it can even record up to three months on just one battery charge. Impressive, right?
The incognito design allows you to place the cam anywhere outdoors without anyone the wiser.
You can view or transfer the video footage by plugging in the SD card into your computer or you can directly plug the DVR into your PC's USB port.
Because of federal regulations, this cam can only record video footage without the audio.
The included user's manual explains in detail how to set this cam up.
Pros
Easy to use, reliable, and there's no need to hide it, this is a great buy for any homeowner on a budget.
This is a high resolution, battery powered spy cam that comes equipped with a DVR.
The camera also comes with a remote control and audio/video cable.
It features a wide one hundred and forty-degree angle, so you can monitor a large portion of your property easily.
The weatherproof design allows you to leave the camera outdoors year-round.
Cons
While it does offer a one hundred and forty-degree viewing angle, this cam isn't the best choice for larger properties.
We found that using this cam at night was pretty useless. It struggles at night if there is no light source nearby.
Additionally, we also noticed that there's a delay between the motion activation sensor picking up movement and recording it, which means the recording feature doesn't kick on at the same time the motion detection sensor does, which is unfortunate.
Conclusion

This hidden rock camera system is a much more affordable option than purchasing an extensive home security camera system to monitor your property. Its wide-angle viewing ability will allow you to easily monitor a specific area. Additionally, it's weatherproof, durable, and works for up to a few months on a single charge.

But if your property isn't well-lit at night you'll also find that it's difficult for the camera to pick up any type of detail. A simple porch light can work wonders in terms of night visibility for this model.

Overall, this is a great budget-friendly option and we would recommend it to anyone who wants to monitor a smaller property.
4. Wi-Fi Baby 4: HD Wireless Nanny Cam and Baby Monitor Review-Best Nanny Cam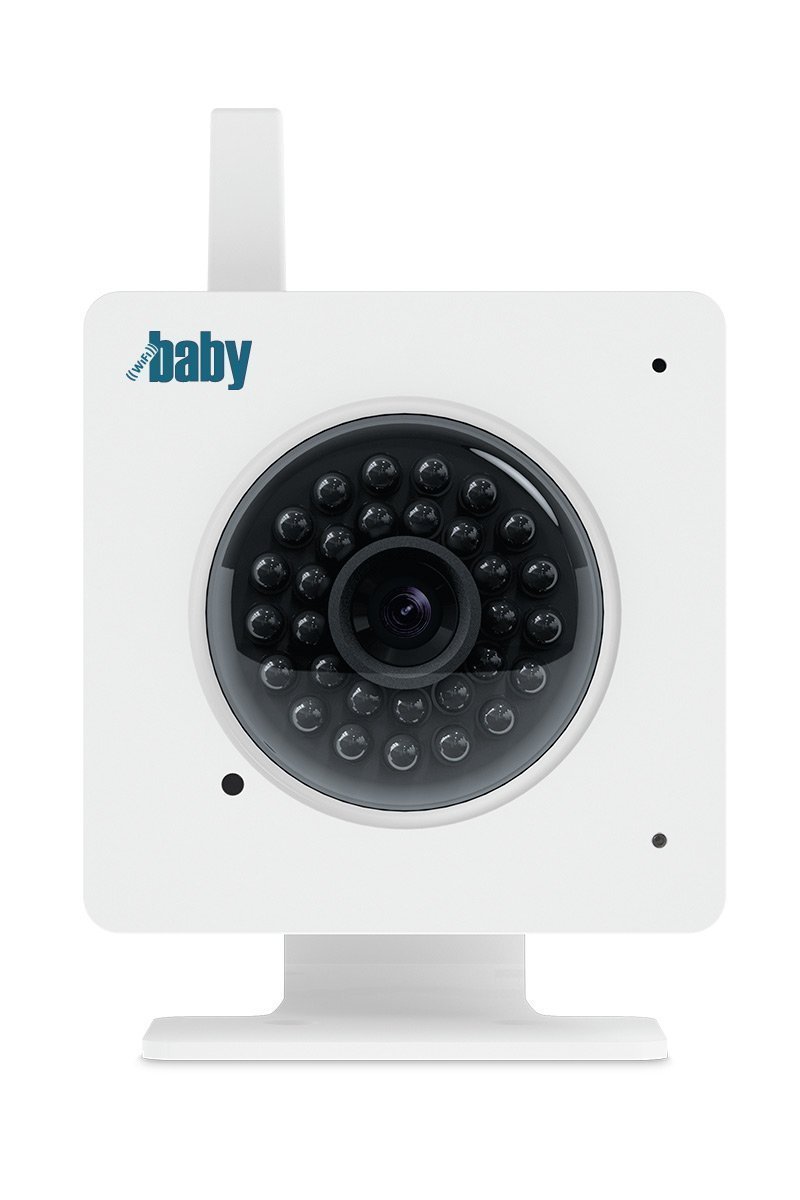 If you do your research, you'll find that it seems the days of the classic hidden nanny cam in a teddy bear are long gone. Sure, you'll come across one or two models, but for the most part, parents and manufacturers alike have left this option in the dust. But why is that? It's mainly because nannies, caregivers, and babysitters have become wise to the obvious carefully placed teddy bear in the nursery or playroom. While you can still purchase a small hidden cam and place it in the toy or stuffed animal of your choosing, many manufacturers are now producing nanny cams that double as baby monitors.
The Wi-Fi Baby 4 looks just like a regular baby monitor and one that you can use or leave just about anywhere. Baby monitors are used in over ninety percent of homes with infants and small children, so your sitter won't think twice when she sees one in your home. But what she doesn't know is that it's actually a hidden cam that will allow you to live view your children while you're away.
This nanny cam can support up to four monitors on screen, it's compatible with the Apple watch so you can receive alerts and notifications instantly, and it features night vision so you can view every detail.
It also has an impressively long range for a nanny cam at thirty feet in complete darkness.
You can also choose from continuous recording or scheduled recording. The scheduled recording option will allow you to set a weekly or monthly schedule using the DVR feature. The footage won't be stored in the cloud and instead will be stored on an SD card so you can view the footage at a later time.
Pros
This wireless system will allow you to stay connected anywhere you go via the app.
You can also view footage using a PC or Mac.
The video stream is password protected for much-needed protection against hackers.
You can use your smartphone even when the app is running, yet you'll still get alerts and you can hear audio of your child in the background.
The apps for both iOS and Android devices are intuitive and easy to use.
Cons
This is AC powered, so it's not quite as portable as some parents would like. Ideally, this would be a nanny cam that could be placed anywhere in the home, but you'll need to keep this model plugged into a power outlet.
Conclusion

If you're looking for a lowkey nanny cam, this is it. Even better, you can use it as your regular baby monitor when you're home. Powerful, offering excellent clarity, even in total darkness, this is one nanny cam that every parent will want to use when they're out of the home and the nanny is in charge.
5. SCS Enterprises Wireless Clock Spy Camera Review-Best Clock Spy Cam
If you're looking for an average looking spy clock, and one that seems to just melt into the background, then this spy cam clock combo is a great choice. Its user-friendly software interface makes it a great choice for people who aren't very computer savvy.
We love that the bland design of the clock allowed us to record several hours of footage while the clock was basically hiding in plain sight.
This clock spy cam by SCS Enterprises is AC adapter powered only. The high resolution camera at 1.3 MP 720P provides crystal clear viewing, allowing you to catch every detail.
It also comes with an eight gigabyte SD card with thirty-two hours of recording time.
The camera also boasts a larger than average sensor, which translates to a more powerful camera and one that's able to clearly record activity, even in low light conditions. The camera features a wide-angle view that's designed to sharply focus on any moving objects. The lens consists of high-quality double layering that's made of glass instead of cheap plastic. Plastic lenses can end up hindering and distorting the camera's view.
Pros
This clock cam is Android and iOS compatible and comes with PC, Android, and iOS software.
The camera is easy to set up, just plug it in, download the software on your smartphone or PC and you can get started recording in just a few minutes
The longer than average recording time is a huge plus for homeowners who want overnight surveillance in the home.
Despite the fact that it's corded, this clock cam can be easily implemented into any type of home décor and does a great job of blending in.
The camera records at sixty degrees horizontal. Since the camera has somewhat of a downward angle, realistically it can record about seventy degrees. Because it's a clock and it's expected to be hung high and centrally in a room, you'll get some great coverage.
Cons
We were a little disappointed that the clock is only available with the AC adapter power option. Many models will give you the option of choosing between AC adapter power and battery power, so it can be a little limiting if you want a more incognito setup.
Unfortunately, the software isn't compatible with Macs.
The camera records images only, so there's no audio recording.
Conclusion

While many buyers were hoping for a battery-powered version of this model by SCS Enterprises, we found that this model still did a great job of blending into its surroundings. This is a very basic spy cam, which makes it user-friendly. We also liked that it's compatible with both Android and iOS smartphones. We would highly recommend this clock if you're looking for a permanent surveillance recording device for your home or business. If you're looking for a highly portable clock cam that you can easily slip in and out of a room, then this model just isn't it. But its fixed power also works to make the clock appear more ordinary, which scores huge points with us.
Fredi Mini Spy Camera Review-Buyer Beware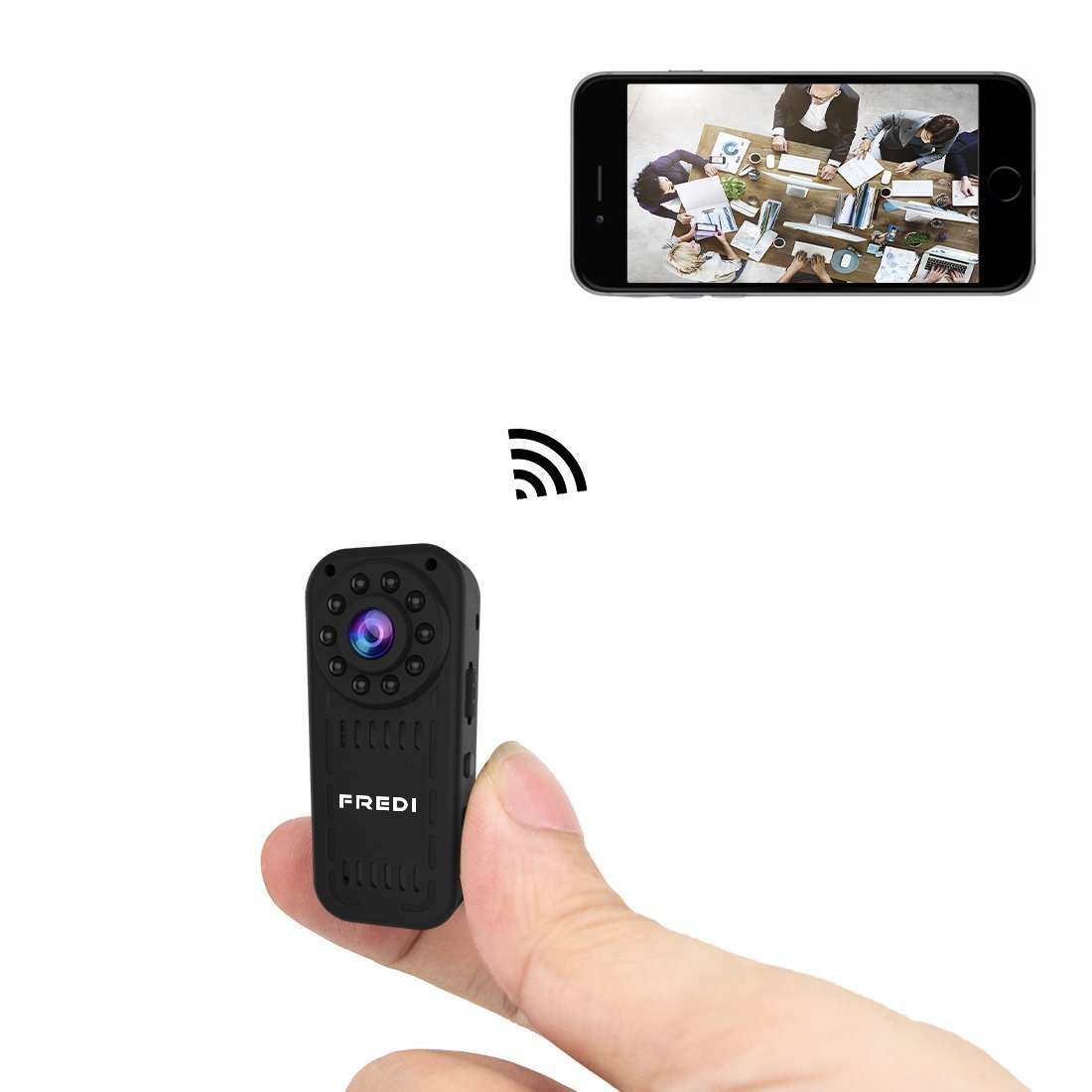 This small spy cam by Fredi claims to offer HD quality video, infrared vision, a rotatable lens angle, and black LED lighting. It's also marketed as one of the smallest DVR video cameras on the market. But what the manufacturer won't tell you is that the camera will stop working after just a few weeks.
Basically, this camera is packed with problems.
If you're not very tech savvy, you'll have a hard time setting this camera up considering the included instructions are vague at best. Many people reported that setting up the camera and getting it to connect was time-consuming and difficult. Additionally, the camera also has a reputation of disconnecting after an hour or two of use.
But the biggest problem some buyers ran into was the fact that the camera can actually catch fire. While the manufacturer claims that the camera can feel a little hot to the touch, we noticed that it was actually hot enough that it burned our skin when we touched it after it was plugged in for more than a couple of hours.
The reports from buyers who claim the device actually smokes and catches fire are not only alarming, it was enough to cause us to toss this defective camera in the trash.
Conclusion

Compact, versatile, and dangerous, this is a popular product simply because it's priced so low.

On average, the camera will last two to four weeks. It will run hot after it's been plugged in for only an hour, but any longer and you'll risk burning yourself or setting your home on fire. This is one of the worst products we have come across in a long time. The fact that it's still on the market is shocking to us.
Hidden Camera Buying Guide
When it comes to home security, hidden cameras are often a popular choice. While many businesses use these types of cameras to protect and monitor their property, there are hundreds of models available for home use as well.
The best hidden camera can be used for child safety, security, spying, and much more. These cameras are available in a variety of styles and sizes, which can make it difficult to choose the right model. However, once you become familiar with their basic features and capabilities, it will be simple to choose the one that will best suit your specific needs.
Because these cameras are often very small, they are commonly placed in areas that are either not easily accessible or noticeable. They can also be attached to a type of common household item, which further helps to keep these tiny cameras hidden from view.
Here are the basic styles of spy cameras that you'll run into online: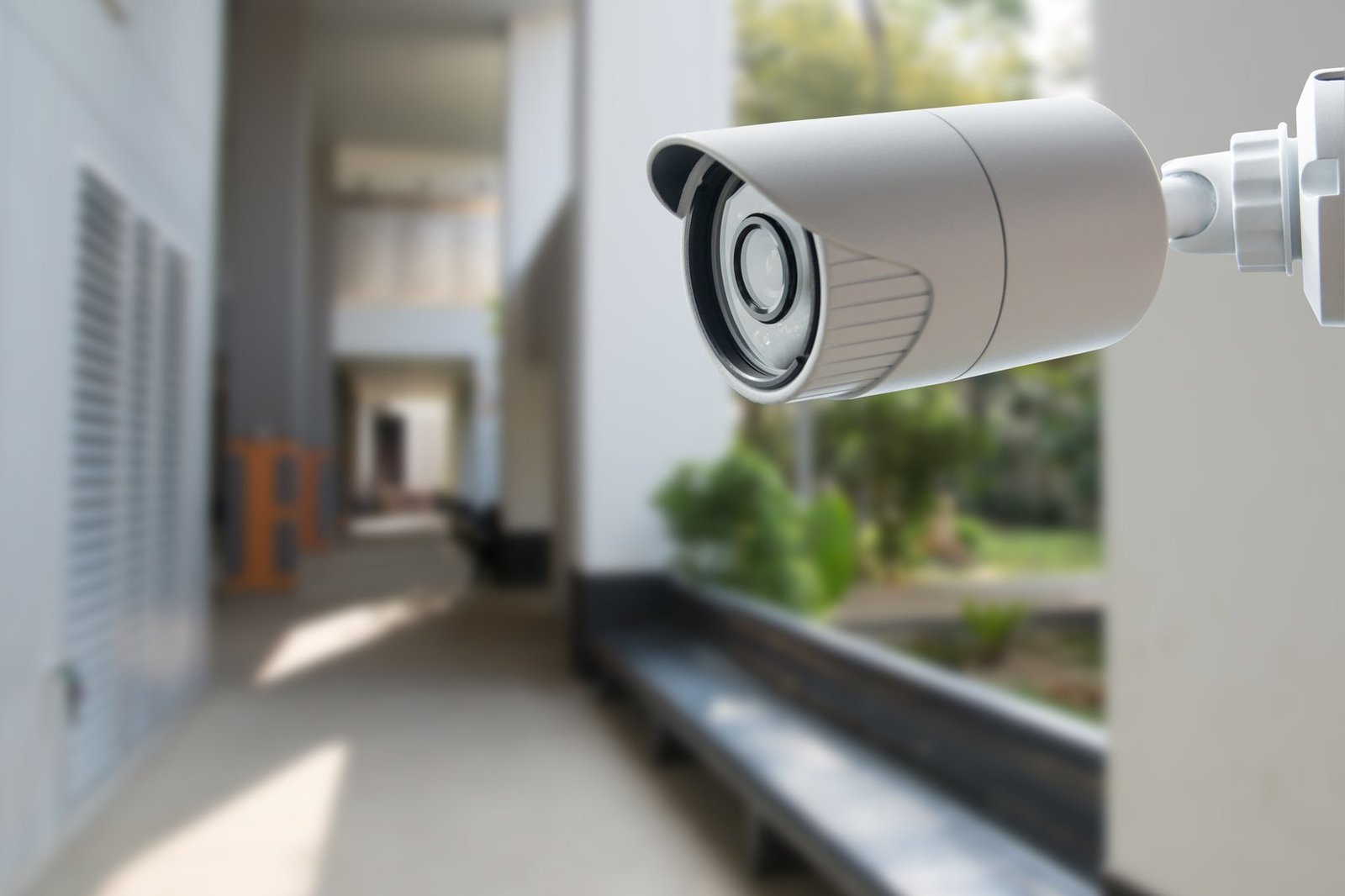 Nanny Cam: This is by far the most popular type of spy camera purchased every year. Some are hidden cleverly in radios, clocks, toys, and stuff animals, while more modern nanny cams are hidden in plain sight and come in the form of a standard baby monitor. These cams are commonly used to keep a close eye on the babysitter or nanny, to ensure children are well taken care of while the parents are away. These models typically come wired, but there are wireless models available as well.
Clock Cam: Let's face it, the clock is one of the best places in your home to hide a tiny camera because clocks are such a normal part of a home that no one pays much attention to them. They're also usually centrally located, so the camera will get a great view of the room. These clocks often come equipped with a wireless camera that's triggered by motion detection or wireless remote.
Smoke Detector: This style of camera actually functions as both a smoke detector and a spy camera. These cams are wireless and they work great for surveillance or security.
Body Cam: This is a tiny hidden camera that you can wear by attaching it to your clothing or bag. They're often used to spy on a specific individual.
Spy Webcam: Just like a traditional webcam, this spy model can be used to stream the internet while also capturing video. However, unlike a normal webcam, this spy cam isn't noticeable.
Standalone Spy Cam: If you're on a tight budget and can't afford an expensive miniature spy cam, this style of camera is a great option, although it won't come disguised in a clock or stuffed animal.
Video Quality
Once you've made a decision regarding the style of spy cam you're interested in, you should also consider each model's video quality. Keep in mind that higher priced models will often offer better video quality. This means a sharper resolution and contrast, and accurate color. These cameras will come categorized in HD or high res.
Always compare the lux ratings when you're shopping for a new spy cam. The higher the lux rating, the poorer the image quality. A lower rating means that the camera will be able to clearly pick up images even in poor lighting conditions.
Video Storage
Video storage is another important spec to consider. Most models of spy cams will use a standard SD card for data storage, however, there are some models that come equipped with an internal memory system built right in. These cameras are easy to use, just plug the cam into a viewing device to take a look at the footage. With a cam that uses an SD card, you'll need to put the card into a card reader to view the data.  The amount of data you can store will vary from model to model. Typically, these cams can store as little as two gigabytes up to sixty-four gigabytes.
Color or Black and White Footage
Older models of hidden cams only recorded in black and white, but these days, you can choose from lower-priced black and white models or full color. Most people opt for color simply because it's easier to view important details more clearly, such as the color of a car or clothing, which can be crucial in the event of a home robbery or damaged property.
Spy Cam Setup
Wireless: Wireless cams are typically the type used in everyday items such as toys and clocks. The transmitter is sealed inside the item and a receiver is used to receive the video.
Hardwired: This style isn't very portable considering you have to extend a wire from the cam to a type of external recording device. While these cameras are often priced lower than wireless models, once you consider all the other equipment you need to use and the overall cost, you'll soon come to realize that this type of cam can end up being pretty expensive in the long run.
Self-Recording: These cams are pretty popular. They use a built-in DVR that will store the video footage to a memory card. Most models are motion activated which helps to save memory space. However, most of these cams will allow you to choose between continuous recording and motion activation.
IP: IP cameras will use a Wi-Fi signal from a wireless router to receive and transmit video footage. There are also some models that will use a desktop computer or laptop as the recorder while the cam transmits the video. Many of these techy systems will also allow you to remotely log into the live stream via your smartphone or tablet.
Other Important Features to Consider
Aside from the specs and features we've already covered, there are a number of other features that you may want to consider before you hit that buy now button.
Motivation Activation: Many cameras run on battery power, so having a camera that can be switched to motion activation can save you power, recording space, and it can also prevent you from having to watch hours of boring footage.
Heat Activation: Higher priced models offer the latest in technology. Cams with this feature are equipped with a body heat sensor. The camera will only begin recording when it has detected a significant change in temperature.
Remote control: Instead of cameras that record continuously, many people prefer models that will take a quick snap of an event so you won't have to fast forward through several hours of footage, which is why cams that capture still images tend to be more popular. Models that come with a remote will allow you to take still images quickly.
Adjustability: Higher priced cams allow you to adjust the resolution which can be useful if you want to save memory space on your SD card.
Pricing
Like any type of camera, the cost of the hidden camera often depends on the features and overall quality. Carefully consider your budget when you're shopping around, and pay attention to the features and quality. Read some hidden camera reviews to find out how customers felt each model performed and what you can expect in terms of performance.
Prioritize the types of features you feel you need the most. As an example, if you want to monitor your property at night when you're at work, then you'll need a model that has night vision capabilities, and these are often pricier than a standard camera.
Each model is sure to have its own disadvantages and advantages but a higher priced model will at the very least ensure that you enjoy a higher quality camera with important features and a certain degree of performance.
Warranty
Many models, especially pricier ones, will come with a product warranty. This is offered by the manufacturer and can ensure the security of your investment for a determined amount of time. Some cams may come with a warranty that's just sixty days or six months, while others are covered from one to five years. The warranty period tends to vary by brand and even the model. We recommend searching for a spy camera that comes with a considerable warranty time.
Hidden Cam Buying Tips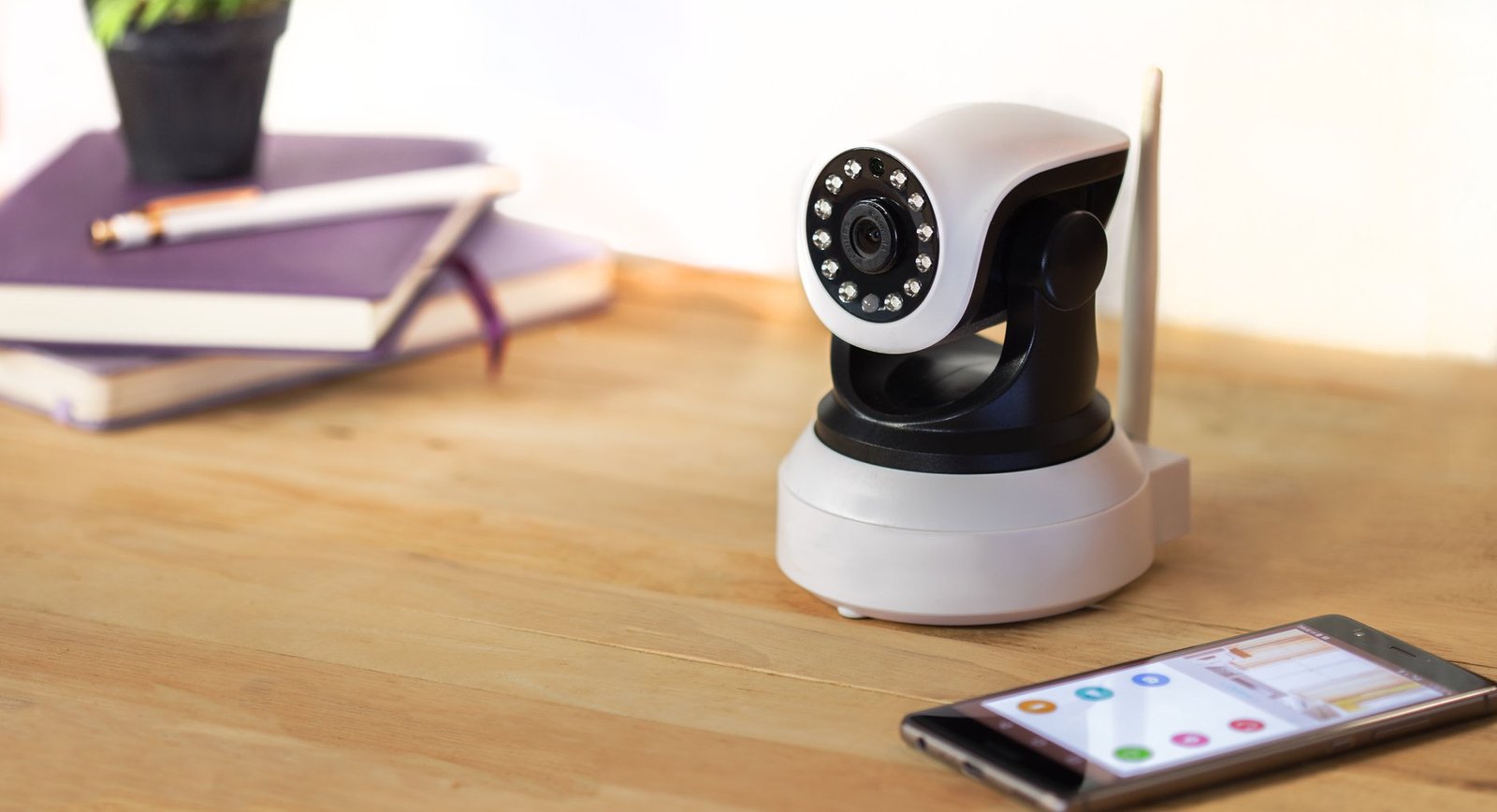 If you're looking for the right spy cam, your first step is finding a model that can easily blend into the specific environment you want to keep an eye on. Try to find a model that won't look too conspicuous or out of the ordinary. Buying a stuffed bear nanny cam and keeping it in the kitchen will probably be a dead giveaway which will essentially make the camera useless if the people in that environment know exactly what it is and are aware of the fact that they're being monitored. However, the bear would blend in perfectly in the playroom, your child's room or even your bedroom.
Right off, determine if you want wireless streaming or a self-recording model. Self-recording cams are probably the easiest to use. They're standalone devices that will record to an SD card or internal memory.
Wireless streaming models are more common, and they can give you a live view via the internet. But they can also take more time to set up and they also require an internet connection to live stream.
What is the Best Choice: AC or Battery Powered?
Each type comes with its own benefits, so your choice should be based on the type of situation in which you wish to use the camera. As an example, battery-powered models are highly portable, so you can place them pretty much anywhere. But you'll also have to pay attention to the cam's battery life and figure out how long it will last. Some models can only run for two or three hours before the battery dies.
AC adapter cams can be plugged into an outlet and will last as long as you need them to, but they're obviously harder to hide.
Is the cam compatible with Macs? Are you an avid Mac user?
If so, then you're probably used to running into problems with software and products that are designed for PC users only. Unfortunately, hidden cams are no different. However, there are plenty of models available that are compatible with Macs. Just keep in mind that some cameras will only work for Windows users. This is very common with many types of streaming cameras and it's due to the fact that many of the live stream cams require a software program to run continuously in order to enable the stream. So, make sure you check for Mac compatibility before you buy.
Hiding Your Spy Cam
As we've briefly mentioned, these cameras must be hidden in order to avoid alerting people to the fact that they're being recorded. If you're planning on spying on the babysitter or a potential intruder, then you need to give special attention to where you hide the cam.
It's not as difficult as you'd think, and many can be hidden in everyday items in the home. As an example, in the living room, you can hide the cam in a plant, in a cluttered bookcase or in a hanging clock.
If you're hiding a cam in the bedroom many pros recommend using a clock spy cam because it can be so easily left out in the open.
You may need to get a little creative, but fortunately, many newer models of spy cams have got you covered.
We recommend placing the cam high, above eye level so it will be able to easily capture the entire room.
The Last Word
Spy cams are becoming essential in the modern world. Whether you need a cam to spy on a cheating spouse, keep an eye on the babysitter, or monitor your home or business while you're away, these cameras can give you much-needed peace of mind.
Our goal was to create a site packed with in-depth reviews of the top-selling models and a buying guide that can help you learn more about the important features and specs that determine quality and performance. We hope the information on our site has helped you to choose the best hidden camera for your home or business.