Managed vs Unmanaged PoE Switch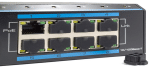 Introduction
Networking using PoE switches has its own set of perks. But it can be extended to an even higher dimension by equipping a managed system with a PoE switch. 
That brings the topic of managed vs unmanaged PoE switch comparison on the board. If the managed one is better, then what's wrong with an unmanaged one? And what're the reasons behind? 
Throughout this post, we will have a definitive break down of all these questions. Stay tuned- 
What Is A PoE Switch
PoE stands for Power over Ethernet. It's a technology that allows the networking cables to carry on electric power along with the network signals. 
To make it simple, let's look at the cable connections of a digital security camera-
Firstly, a digital security camera would require a network connection, which enables it to communicate with the display and video recording equipment. 

Secondly, it would require a power connection, which will be in responsibility to carry electric power to the camera for the sake of operation. 
With a PoE cable activated, it would require only the network connection to operate at full swing. As the PoE switch will deliver the electric power as well, you don't have to bring on two separate connection anyway. 
Managed vs Unmanaged PoE Switch
PoE switch is a network switch, which can deliver functions through two kinds of management. And the most convenient one is known as 'Managed PoE Switch'. The lesser practiced one is, however, called the 'Unmanaged PoE Switch'. 
For the next few sections, we will break down the definitive insight of both of them, and what purposes they can serve by being collaborated with PoE switches. 
Understanding Managed Switch
A managed switch is a system that allows the PoE switch to create access to one or more interfaces. The purpose of the interface is to configure or manage several features of it such as STP(Spanning Tree Protocol), VLANs, Port Speed, etc. 
Advantages of Using A Managed PoE Switch
Comparing to the unmanaged PoE switch system, the managed system has a number of advantages. Here is the list- 
It gives the PoE switch system with more control over the LAN traffic. 

Apart from regular controlling, it provides more advanced features over the LAN traffic. 

Managed PoE switches allow port mirroring with the association of protocol analyzer. 

You can monitor the activity of incoming traffic with a wide range of troubleshooting. 

It enables the PoE switch system to support a good extent of other systems. As an example, a managed FS S5800-48F4S 10GbE switch can let your system support other devices such as VxLAN, MLAG, SNMP, etc. 

Managed PoE switch also allows the network administrator to prioritize and monitor traffic and setup VLANs. 

With a managed switch system, it's easier to program the system through devices like Telnet, Consoles or SNMP. 
Disadvantages of Using A Managed PoE Switch
Apart from many advantages, there are a few drawbacks that we also want to highlight in order to show you both sides of the coin. Here you go- 
Setting up a managed PoE system can be expensive. 

It requires expertise around networking in order to create and assemble a managed PoE switch network. 

It's hard to troubleshoot the system once any fault takes place. 
Understanding Unmanaged Switch
Unmanaged PoE system is just the mirror-opposite of managed ones. With an unmanaged PoE switch, ethernet devices are only allowed to communicate with each other through an automatic negotiation system. The purpose of the auto-negotiation system is also to determine the data rate and the choice between full-duplex and half-duplex modes. 
Advantages of Using An Unmanaged PoE Switch
There are not so many advantages of using an unmanaged PoE switch, apart from just a few. In case you are curious, here is the features of an unmanaged PoE switch- 
It makes the system simple by letting the ethernet devices to communicate only. Two of the examples are- the PC or Network adapter. 

You don't have to convey the expertise to interrupt the configuration to run and control an unmanaged switch system. It comes up with a fixed configuration and that's all you require to know. 

It offers a redundant power input.

An extended operating temperature comes up with an unmanaged switch. 

The operation around an unmanaged switch is quite noise-free when it works with other hardware. 

Comparing to the price point, you can avail of an unmanaged PoE switch system for less price compared to a managed one. 

The installation of an unmanaged PoE switch is quite easy. As simple as a plug and play device. 
Disadvantages of Using An Unmanaged PoE Switch
Anything that's possible to do with a managed one, is not able to be done with an unmanaged onel. And that forms the major disadvantages of an unmanaged PoE switch system. Here is a list- 
You can not have much control over the LAN traffic. 

No port mirroring is able to be done with an unmanaged system. 

You can hardly monitor all the activities of internal traffic. 

It doesn't support that many extensions of devices and networking hardware. 
Managed vs Unmanaged: Which One Should You Use with A PoE Switch?
Now, it's time to put the verdict on this discussion. For several reasons, we recommend to use a managed system with PoE switches. Here is the list- 
The Use of Gigabit Ethernet Switch
PoE is not supposed to send network data across a long distance. It's mainly used as a part of a Gigabit Ethernet Switch, which is used in IP camera, WAP, VOIP phones etc. A fine example s FS-8 Port Gigabit PoE+ managed the switch. 
It's Cost Effective for Business
Managed, gigabit PoE switches offer quite a cost-effective solution along with efficiency in any business. If it's about setting up a surveillance network or a network of IP cameras, the managed PoE switch is the best choice available. 
High Data transfer rate
The data transfer rate through a managed PoE switch system is quite high over one CAT5E or CAT6 ethernet cables. A managed switch with PoE will therefore, serve all the purposes that a managed switch has, along with other sorts of extensions.