If you are aware of driving and the challenge of reversing then I am sure you have also experienced being stuck on busy streets or being stuck on narrow paths, and you surely need something to get your our of this. A rear-view or an RV backup camera can be a big savior. Rear view cameras can be characterized in two groups: wired rear-view backup cameras and wireless RV camera system.
Wired RV Camera Systems
There isn't anything as relaxing as spending quality time in good outdoor while camping in RV. Nonetheless, some driving situations can be very stressful as well as difficult as backing your RV in a hard camping spot and getting it in the driveway of your home. By installing the camera for backup on the RV makes it safe and easier to move your vehicle. A camera technically provides you extra eyes to increase your mirrors as well as human spotters.
To avoid any kind of obstacles that come in your way use the backup camera as it allows you to have a great view of all the blind spots. When you are looking for an RV camera the most important thing is whether to get wired or wireless camera. Wired cameras cost more money and time but they last longer than the wireless RV camera system and provide good quality of pictures. You are also able to install the wired backup system yourself. Most of them come along with the detailed instructions. Online information as well as recourse's and also available to help. You can even hire a professional to do so.
PROS
They are more reliable than wireless cameras. One of the biggest pros of wired camera systems is that that don't have signal interference as wired cameras are connected to the monitor physically. The camera will provide good and clear signals in all conditions. So basically wireless systems tend to lose connections lot of times while the wired system will provide clear images all the time.
Wired camera systems deliver the better quality of images and contain data more since they are wired right beside the monitor. You will get a clear vision of everything that is within the range of the camera. The image will be focused and sharp, qualities that you need to exactly see what is going on. A wireless RV camera system will only support some limited amounts of transmission which results in unclear images. You would definitely not want to cause a mistake just because the image wasn't clear enough.
CONS
It is difficult to set. Since it is a wired backup system it involves more installments in comparison with wireless hookups. A wire is allowed to run past the length of your RV and to your vehicle in order to connect the camera system to the monitor. Unlike the wireless camera, you are unable to mount the receiver and the camera.
Wired camera systems are a little bit high in rates than the wireless camera systems. The reason might be that they provide high quality and holds more equipment that is wired etc. Most of you agree the extra cost is desirable as they provide good quality of pictures and are more reliable. But keep the additional expense of installment in mind. It will cost and time and money both either you do it yourself or call a professional for that.
Wireless RV Camera System
Backup cameras are big wonders for RV owners in improving their safety. With the help of a backup camera, you have the greater view of behind objects and that way. Let us look at some pros and cons of wireless RV cameras.
PROS
Due to the simplicity of the wireless cameras, it allows individuals to install it by their self. In most of the cases, the time it takes is about five to three minutes. Since it doesn't really have any wires to connect on the input or output, people will tech problems can also easily install the wireless camera system without any problem.
Wireless cameras are advanced technology as compared to the standard wired cameras. In case you are looking for gadgets with high technology then your best option might be wireless cameras.
Wireless cameras are less expensive than the wired cameras. Wireless system does not require any extra equipment or material like the wired system so they are low in prices.
CONS
Even though weather affects all kinds of backups but wireless RV camera system tends to be more sensitive than other wired cameras. In wireless cameras, rain, snow, strong wind and others tend to affect the screen and signal of the camera.
Sometimes, the signal drops due to any reason while you may be trying to backup which is not related to the weather. The distance of RV length affects the wireless system signals.
Even if the weather conditions are great the images might not be as great on the wireless cameras as on the wired cameras.
The Furrion wireless camera's observation system lessen the blind spots and lets you check behind your RV. This observation will use the digital transmission that transmits pictures to complete color and 4.3-inch display 100 feet aside. This camera is perfect for the vision of night since its LED is based on a waterproof camera. The CPU of this camera is highly improved that helps in streaming videos in good quality and at very high speed. Even if the climate is in its worst condition, the climate-smart lets the GPS run. This product also has vibration mart which helps in resisting vibrations.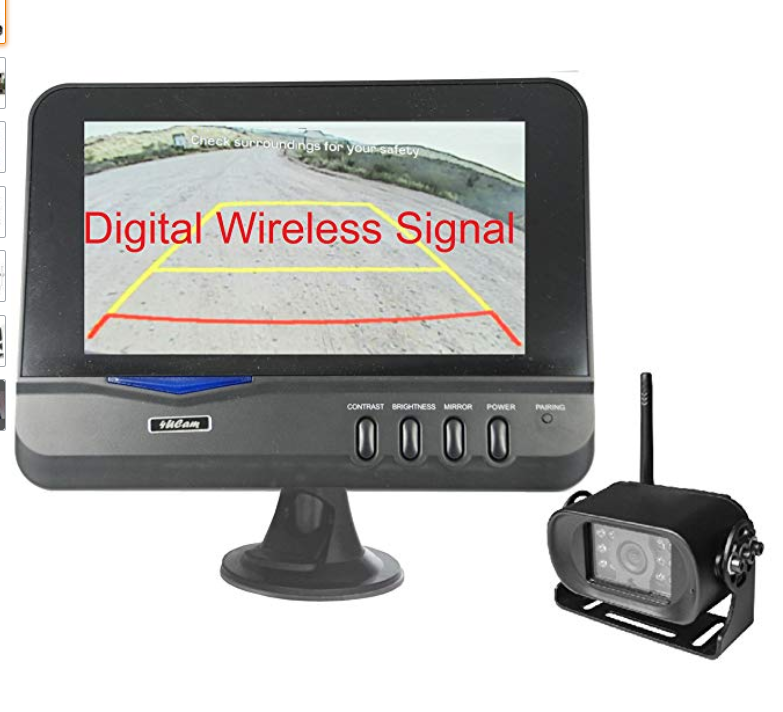 4ucam is a profit-oriented set wireless camera that has the monitor of widescreen with 7-inch LCD. It provides crystal clear pictures more than your expectations. The installation of this camera is extremely easy, all you have to do is plug into the car's cigarette port lighter. There is a big connection between the wireless camera & the screen monitor. You are able to easily inspect the signal strength through the bar of camera signal information. An antenna that can be removed is present as the monitor lets good reception for wide range signals. This camera has a complete RCA product which allows the output of pictures on a larger screen. A system of this camera has a waterproof capacity and heavy frame of metal. The 4Ucam wireless system is designed to endure any kind of harsh conditions.
This RV system has 1 inch LED digital of the panel, 18 glowing lights and 180 degrees long angle of view. This camera gets the videos of almost 50 feet of the night sight. The RV this camera has is water consistent as well as resistant. In order to watch videos on a large screen, the A Channel collection allows the connection with more than 1 camera and also a digital video disc player. It further has a speaker built inside it, black-lit keys, removable sunshade and auto dimming. The backup of this camera is weather-resistant IP69K-rated for outdoor use and is shockproof. It has 20g/100g vibration as well as impact-rates in any case of a collision or bumpy roads.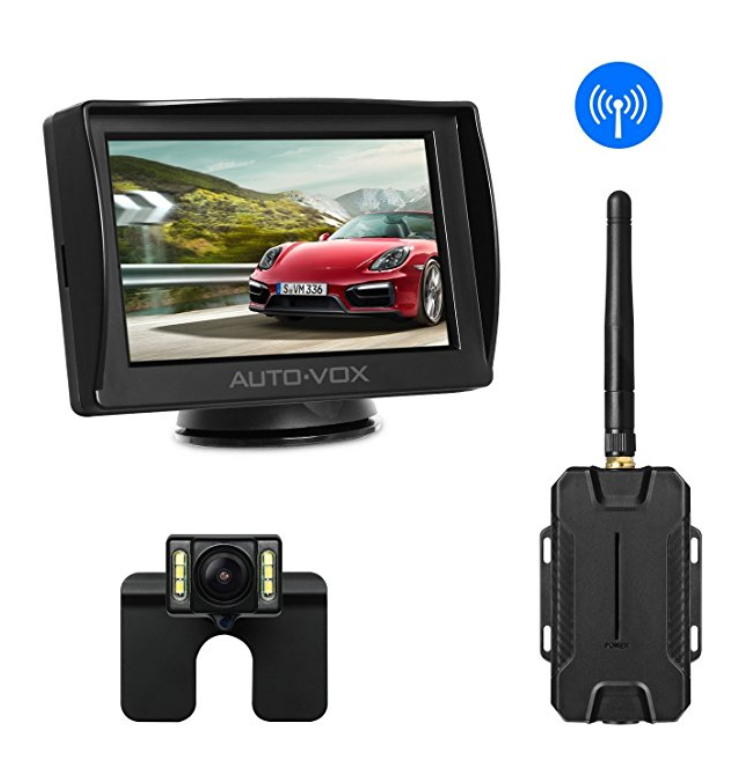 Wireless RV system of Auto-Vox is perfect for huge vehicles such as trailers, cement truck. Heavy truck, excavator, farm tractor etc. As this camera is very convenient to install without any extra or long cables to connect that might confuse you, it is the easiest and time-saving camera system. You have no demand to search for different brackets, just attach it to the old one. There is also no demand for making holes instead just hide it behind your license plate. According to the environment, the LED 6 brightness will be turned on as well as off automatically. You can experience the night sight with the Auto-Vox camera and easily drive even on monsoon days due to it's water-resistant that are IP68. All you need to do to charge this camera is by plugging the charger of the car to the car cigarette lighter. Its 8M night sight range provides you the perfect and safest drive both in the night as well as the day.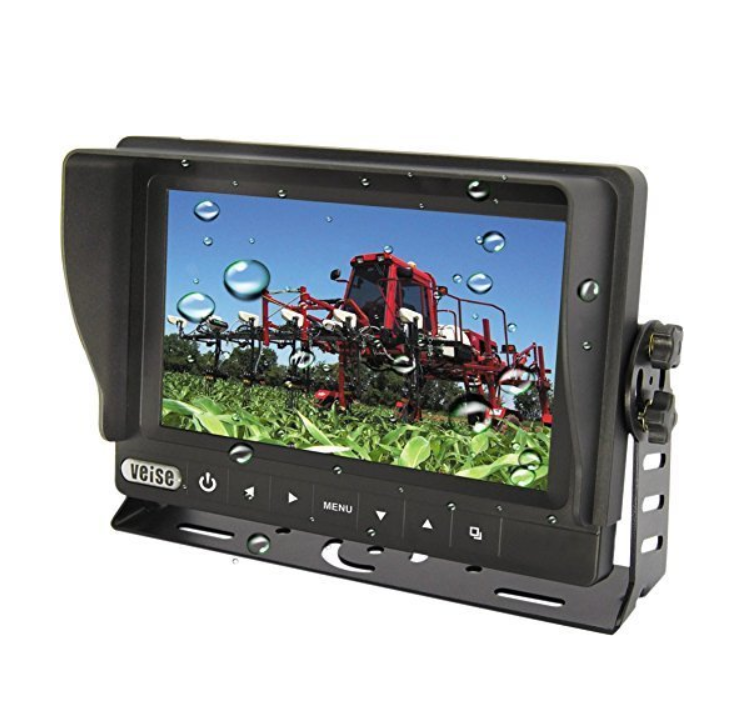 Along with the VeiseRv Wireless camera, you are able to experience great display regardless its day or night with its 7-inch wireless complete color screen monitor of LCD TFT. Eliminate blinds spots on container cranes, harbor cranes and tower crane with 130-degree wireless digital and water resistant camera. It has a baby monitor with 7-inch and 16:9 TFD LCD large screen rear view mirror and monitor that is designed along 480(w)x234(h) resolution and a touch button. This camera has to methods of visual output with the automobile as well as car RV display monitor. This camera is best for cement truck, trailer, RV camper, excavator, 5th wheel, heavy truck, farm tractor. This camera provides 100th distance without any interruption.